Increase Sales With a Call-Only Ad Campaign
ByDaniel Ducloux

Sunday, April 19, 2015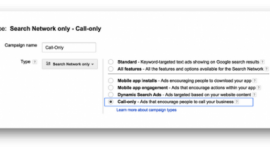 If your business generates sales over the phone getting that first client contact or lead is like money in the bank. For this reason, the primary objective when setting up an AdWords campaign for these types of businesses has been to drive phone calls. Until recently a user would have to click on an ad and a landing page would attempt to funnel the customer to call in for service. Google has made it easier with the introduction of their Call-Only Mobile Ad Campaigns.
What is a Call-Only Ad?
A mobile customer can now click on the Call-Only Ad, and it will act like a click-to-call button routing them to call the verified phone number the business is using.
Call-Only Mobile Ads feature the verified phone number, a URL (we recommend using a branded URL), and two lines of text with a call button.
Google released a figure that states that 70% of mobile searchers call a business directly from search results. Google is giving users what they want with direct access to the business they are trying to reach and saving all of us the time we spend in constantly optimizing our landing pages.
If you needed two more reasons to use this type of Call-Only Campaign here they are:
43% of all search-related conversions happen over the phone?
65% of businesses consider phone calls their most valuable, highest quality source of leads
These campaigns are obviously better for mobile-focused marketers. If you haven't heard, Google is getting ready to heavily emphasize mobile with their new Mobile-Friendly Ranking Algorithm.
Advertisers should understand that they only have the customer's attention for a short period. For verticals that depend on phone calls, these ads can mean increased conversions (appointments) and increased sales for e-commerce sites that take phone orders.
Assuming you are now convinced that Call-Only Ads are amazing let's review the process for setting up this type of campaign.
Setting up a Call-Only Campaign:
Start by setting up a new campaign in AdWords.
Select Call-Only Ad type from drop-down
Select "Search Network Only" and name your campaign.
Complete the rest of the fields like you normally would i.e.; Business Name, Phone Number, Description, Display and Verification URL.

We recommend using a branded URL because it helps give the ad authority by showing the user whom they are calling.

You can select a Google forwarding phone number or your phone number. You may be tempted to use the Google Number for the reporting, but you will be better served to use your number and add call tracking and reporting later.
Understanding Your Call-Only Campaign
The ad is clicked, and the phone number is loaded on user's phone.
The charge on your account is applied on the click, not the call though.
Bidding: your cost per click bid should match the value that you place on a phone call.
Ad copy and CTA can match up directly with the immediate action you want a user to take: call now, call for a quote, etc…
Currently, Google does not enable vanity numbers.
Your phone number must have voicemail and Google will verify your Business through that phone number.
Some in the industry have noticed a longer review time for these ads.
Google has to verify the URL for your site and that the page you provided has the same phone number you want users to call. For advertisers using call tracking solutions with JavaScript snippet, this could be an issue. Some users have found a workaround being leaving the Verify Url field blank because right now it is optional.
This is replacing call extensions that will sunset in June of 2015
We believe this will be a great change for service-based businesses. We want to hear from you though, have you setup any of these ads and if so what are some of the pros and cons?
Img source: http://adwords.blogspot.com/2015/02/charge-up-your-phones-with-call-only.html