To Kit or Not to Kit: A Review of Shopify's Digital Marketing Assistant
ByDaniel Ducloux

Wednesday, October 4, 2017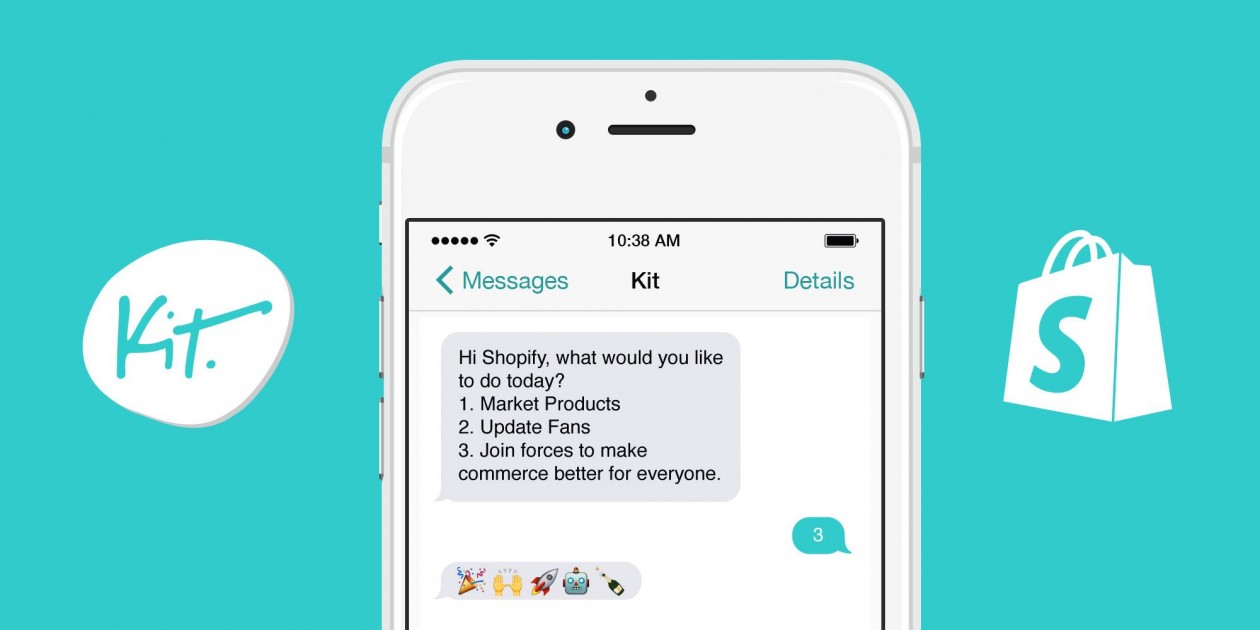 Can you trust a robot to do your ecommerce marketing?
For a limited time we are offering partnership opportunities. We guarantee ROI. Take over your marketing. No more marketing headaches. No charge to you. Book A Call Here.
If you ask Shopify, they'd introduce you to your supposedly new best friend, Kit. Launched back in 2014, Kit is a virtual marketing assistant and Shopify app that is geared towards marketing your ecommerce site. Yes, it does the dirty work of running your social media ads (Facebook and Instagram) and take a major role in your email marketing campaign while you relax and enjoy your time away.
Well, this may sound very convenient, especially if you are transitioning towards a tech-savvy kind of digital entrepreneur, but let's face it: not everyone is sold into the idea. How could you let most of the marketing work be entrusted in the hands of a virtual assistant, right? But if you go through the reviews in the Shopify app store, it seems like more and more business owners and managers are getting the hang of it-meaning they are becoming more and more satisfied with Kit.
It's been more than a year since Shopify has acquired Kit, and while there have been a handful of opinions about its functionality and effectiveness, perhaps it's about time to take a deeper look in this trending virtual assistant app for ecommerce marketing. Taking into consideration the updates it has had since its first release, below are the things that we've learned so far.
But before that, here are the other essentials facts you need to know about Kit:
Kit is a virtual assistant that integrates with your Shopify store and Facebook ads manager, the both of which you need to be running already prior to the app's installation.
Its primary communication channel is SMS messaging. Once Kit has already been set up on your site and Facebook ads, it will send you text messages asking if you need help in marketing your business while you are busy with other stuff (such as meeting suppliers, writing content on your blog, or going on a vacation). The app is specially designed to function as a true blue "marketing assistant" that you've always wanted-the all-in-one staff that looks after your shop and at the same time manages all aspects of your campaign-from finding an audience to releasing creative ads that attract your business to your market.
And now we go to the reasons to use Kit.
The Perks
You don't have to learn how to manage Facebook ads on your own.
One of the best things about Kit is that it saves you the time and effort in learning how to use Facebook ads. In fact, once it is installed, you don't have to log into Facebook and face its rather complicated advertising interface.
Instead, you just have to reply to Kit's texts to make your ads live!
Kit reminds you constantly that you should take marketing seriously.
While it takes charge of doing the grunt work of your business, i.e. blast your ads and send out your email sales copy, Kit also helps you keep in mind that you are running a marketing campaign. It provides you with constant reminders that you are running ads on Facebook, what's up and hot in your niche, and that you can boost the exposure and profitability of your products using ads.
Kit offers new and unique ways for you to advertise on Facebook.
Kit proves true to being a reliable virtual assistant by providing you with suggestions to consider in your current campaign. These include recommending the products to promote when you have a slow moving inventory, giving more exposure on new items in your shop, and as well as create advertising offers through its integration with the Shopify ad manager Bold (third party).
Kit is absolutely free!
Yes, you read it right. Kit is free on Shopify! This only means one thing: you can run Facebook ads for a much cheaper cost rather than hiring someone to do the work on your behalf!
Pretty cool, right? But like all the good things left and right, Kit has its own cons too, and these are things you also need to consider.
The Downsides
Kit works way better with already established ecommerce businesses.
Since Kit uses custom and look-a-like audience to find customers for your Facebook ads, this means that you need to attain a minimum number of Facebook page likes (100 at least) and customer sales (20 or more email addresses that link to customers for Facebook for a custom audience, and 100 email address to link Facebook for a look-a-like audience) in order for its targeting recommendations to work. So yes, if you haven't garnered these figures yet, Kit won't do you wonders.
Your targeting options are limited.
This is quite expected for a "virtual marketing assistant," as Kit works on templates that it recognizes when it comes to doing its tasks, especially on targeting audiences. With that said, it only sees and uses two types of targeting: custom and look-a-like audiences.
Kit will not find or create new audiences from square one, and it will use the look-a-like audience feature to find customer trends and types that are most likely to buy your items. Hence, you cannot create ads that target audiences that are no longer within your scope, such as:
Fans of competitor pages

Friends of fans of your brand's Facebook page

Fans of a publication you'd want to place your ads in
If there's any consolation, Facebook itself doesn't reveal its decision making process on how look-a-like audiences are made. And while indeed it is proven that look-a-like audiences are very powerful in locating new fans and potential customers, at the end of the day they still refer on data that human beings won't use for custom targeting. In a nutshell, look-a-like audiences should only be part of your Facebook ad campaign, but not the whole of it.
On the other hand, if you don't have a wide fan base to form a look-a-like audience, Kit allows you to target potential customers based on categories such as age, gender, and location.
However, once you start doing this, you'll be better off running the ad campaign by yourself since you already know how to tweak your target demographic, interest and behavior more than the app.
Kit doesn't allow you to tweak your ad copy and images.
One of the biggest downsides of Kit is that it gets all of its copy and images from your Shopify site. This means to say that you cannot control the ads or images that Kit uses unless you manually edit the ad copy on Facebook.
If you need your ads to be specially designed to target an audience, sorry, Kit's not for you.
Kit runs ads that go directly to product pages, but not on landing pages.
Another problem with Kit is that it has the tendency to be too direct, i.e. it leads people to click on ads to product pages. The thing is, not everyone who gets attracted to the ad are after the product itself, but the app doesn't understand this. Kit only promotes products and product pages, and no other type of content or content page.
With that said, you won't be able to promote landing pages, blog posts, and other types of content that provides Facebook users a wider context for your business. You should thus note that landing pages must be a big part of your marketing strategy, especially when your products need to shine by means of a dedicated introduction. For example, if you're promoting a slimming product and you have created a landing page for it, Kit will not use that landing page on your Facebook ads, and rather link the ads to the product page instead.
You're stuck with only one type of ad, and it's only in the newsfeed.
When it comes to running ads, you must understand that Kit is designed to run only image and carousel ads that link directly to your product pages with the sole goal of converting audiences into customers. And it only runs the ads in the newsfeed because "sidebar ads bring lower ROI." You should note however, that while they do not get as many clicks, sidebar ads offer a more affordable retargeting alternative for product-based ads, thus they should not be taken out of your marketing plan.
And yes, Kit does not allow video ads.
The thing is: you should think beyond product ads that appear on the newsfeed and consider all your marketing options, as this is the only way you can utilize the whole Facebook marketing funnel.
Our take on Kit
With the pros and cons of using Kit now laid down, here's our say: if you are running a Shopify site with lots of products, a growing fan base, and already hundreds of customers, and at the same time you have a budget to spend on running specific product ads and are focused on conversion as your marketing goal, then Kit will definitely serve as a means to automate your product-targeted ads.
However, you may not be able to maximize Kit's full potential if you are under the following circumstances:
Starting out small, with less than 100 fans of customers

Promoting items that need to be given more highlight or special attention, such as handmade crafts or products that have a strong selling point

You feel the need to control over your ad content

You want to control the leads your ads are being directed to

You want to run an ad campaign with a variety of goals, such as offers and video views to grow your audience, and not just sales
In a nutshell…
Kit is definitely a powerful tool in boosting Facebook ad campaigns for your Shopify business site, we have no doubt about that. As a virtual marketing assistant, it allows you to focus on other tasks for your business while it take cares of most of the advertising grunt work, and that takes away the stress of you having to man over your marketing campaign, especially if you know that it can already be done on autopilot.
But Kit remains to be a tool, no matter how effective its functions are. Hence, the real marketing still lies on your hands and it requires a lot of commitment. Creating the strategy to make your products sellable on Facebook via an ad campaign is still in your hands, and Kit can only enhance your capacities to achieve your goal to convert audiences into customers.
So yes, while having Kit on board is quite a great thing, you have to establish a solid marketing strategy first. It's simply because like any other app, Kit works on already created templates, and it cannot start from scratch. Only you can do that-and only you, as the business owner, can come up with a solid blueprint to succeeding in an ecommerce business fueled by Facebook ads.
Tagged Under: kit, shopify, shopify app, shopify kit app review