Social Media for Your Small Business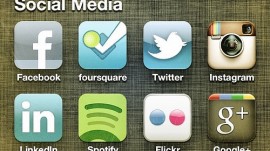 Social media marketing is growing exponentially everyday and if your business is not taking part of this marketing venture then you could be missing out big time. Aside from helping your rankings to increase in the search engines, social media helps your business to connect and interact with customers past, present and future.
Some Social Facts
Facebook– FB is the largest and most popular social media site. And it's still growing. There are currently 1.26 billion users and in the US alone there are 128 million active in the site daily. Chances are that your customers are among the billions of users on Facebook.
Twitter– I hope you can make your sales pitch in140 characters or less. This largely popular social medium has a dedicated fan base. Remember to tweet wisely and sparingly so that your consumer cares about your tweets to actually read them.
Google+– Google Plus is important because Google says so. The social site is growing, but it doesn't seem as if the Google Plus community is all that active. Nonetheless, Google Plus is important because it is Google's baby.
LinkedIn– What sets this social media site apart from the rest is that is strictly for professionals which makes it the perfect place for your business. LinkedIn is the largest professional business network, so if you want to connect with other professionals or advertise a job opening, then LinkedIn is where you want to be.
As a marketer it is important that you remember to integrate all of your PR and marketing with your social sites. Don't waste your time and money by not advertising what you are doing through your social media accounts.
What You Should Do
If you have never ventured into the social media market then you may not know what the first step is, or the second or third step for that matter.
First you will want to create business accounts for the social sites that I listed above. Remember, there are more out there (a lot more) but those are the most powerful ones right now. Make sure that you include all of your contact information in your profiles as well as your web address. Once you have created the accounts make sure that you install social media widgets onto your site so that people can share your content as well as find your social profiles from your site.
It's important to stay active on your social media sites by sharing content, responding to your followers and engaging in other discussions.
Social Media marketing should be done right. There are a lot of people out there that claim to be social media gurus and they base that simply on the fact that they are addicted to Facebook and Twitter. A true expert will understand the analytics and conversion rates of social media campaigns. If they can' explain that aspect of social media marketing to you, then they don't know what they are doing. You may need to consult with an Austin SEO company.
Tagged Under: small business, social, Social media