Why a Blog for Your Business is Important
By

Saturday, June 7, 2014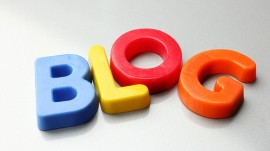 Whether you are a photographer or a plumber, having a frequently updated blog for your business is crucial to succeeding in search engine results pages. When your website succeeds  then your business succeeds. So how does a blog help you to rank better in rankings and what other benefits are there for blogging. Read below to find the answers to those questions.
The Search Engines
Having a blog that you frequently update (1-5 times/wk) will offer searchers with content to read and it will boost your rankings if you are smart about writing keyword rich content. So if you are a plumber and you write a 500 word article on how to snake a toilet, then Google may give you credit for search queries on snaking a toilet.
The key is to write content on keywords that you want to be ranked for. If you want to be ranked for Dallas SEO, then you should consider writing content about digital marketing in Dallas, TX. It's this type of keyword strategy that will help you to beat your competitors. Chances are, that your competitors are beating you because they are already updating their blog.
Brand Your Brand
If you consistently write articles that are authoritative in a certain field then you will eventually be seen as an authority on that subject. Google gives big rankings to sites that are seen as an authority and your potential customers will become actual customers. Pretty soon you will have other websites wanting to link to you.

Create Customer Relations
Blogs allow for conversation to develop between you and the readers. If you allow commenting on your blog posts then this will allow you to connect in a personal way with a community that cares about what you offer and this can equal client growth and retention. Joining in conversations that spark from your blog also shows customers that you care and are willing to answer any questions they might have. This can put unsure skeptics at ease.
Social Sharing
Having a blog will give you content to share on your social media sites. A big problem that a lot of businesses have is that they feel like they have nothing unique to share with their followers. If you have a blog that you frequently update then you can offer that content to your followers.

If you are serious about growing your website and your business then you need to create a blog and consistently update it. Blogging can be a game changer for your site.