Inbound Social Media: 4 Simple Steps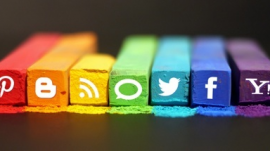 Social media: Inbound Style

Unsurprisingly, social media use is a large part of inbound marketing. With millions of users and numerous opportunities for communication, social media platforms are essential for accessing and engaging target audiences.
Get started today with these 4 inbound social media steps
1) The Four Must Haves: Make sure you have accounts with Facebook, Twitter, LinkedIn, and Google+: These four social networking sites are a must in your social networking repertoire.
2) Continuity: All of your accounts need to have the same branding, styling and content. Whether someone starts following you on Twitter or adds you on Facebook they should feel right at home. People need to recognize your brand and feel familiar with you.
3) Content: Come up with some great ways to tell others about yourself. However, no one likes an attention hog. Be genuine by adding useful and valuable information to peoples lives. There is a great rule to follow on social media called the 80/20 rule… and no, I'm not talking about ground beef. 80 percent of the time you should be adding useful, educational, beneficial..etc information. 20 percent of the time you can spend promoting yourself. This creates value and trust with your followers.
4) Consistency: Create a consistent experience. People should expect to see updates on your social media sites. Your social media should be a living and breathing forum in which information constantly being refreshed. Again, this does not mean you always need to be plugging your brand. Most of the time you need to be building trust for your brand with your followers.
Tagged Under: inbound social media