The Hidden Cost Of Cheap SEO & Social Media Labor
ByDaniel Ducloux

Wednesday, September 12, 2012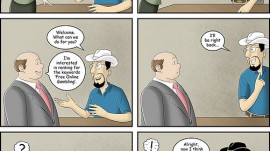 Sep 4, 2012 at 12:56pm ET by Jordan Kasteler
Fact: All businesses, large or small, want to save money wherever they can.
I understand this. I sympathize with this. What I don't understand, however, is why so many businesses try to take the cheap route and cut corners in their online strategy— and then are dumbfounded when they get scammed/receive terrible results/get blocked by Google.
I know how devastatingly costly it can be to launch, maintain, and grow a business. But there are certain aspects of building a business where it's never okay to cut corners. You wouldn't hire an inexperienced, too-cheap contractor to build the building. You wouldn't buy discounted, bruised produce if you owned a restaurant and you wouldn't buy day-old bread for your sandwich shop.
So why would you trust your website and your online reputation— the very first introduction your customers will have with your business — to an inexperienced amateur or a too-cheap scammer?
In life and online, you get what you pay for. I've said it before and I'll say it again: solid, successful SEO and social strategies take time. Time is money. Try to save a few dollars now by hiring a cheap, inexperienced, or shoddy "professional" and you'll guaranteedly pay for it later.
Still not buying it? Here's a look at what suffers when you try to cut corners (or hire someone that cuts them for you).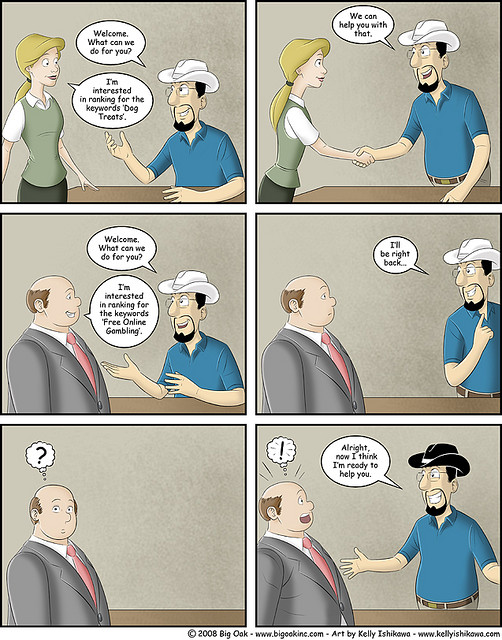 Image Credit: ByronShell via Flickr
What Happens When You Try to Take the Cheap Route
1.  What You Pay For: Cheap links or linkbuilding campaigns.
What You Get: Google Penguin.
Google hates link spam. Google punishes link spam. In fact, Google punishes anything that even looks like link spam. On April 24th, Google unleashed Google Penguin, an anti-spam algorithm update that affected roughly three percent of queries. All controversy about the effectiveness about the update aside, Penguin proved that Google is actively going after sites with spam, and its history of shutting down link networks and blog networks further proves the point.
Buying links is the overt way to take the cheap-and-easy route in linkbuilding (and scheming link builders abound), but it's not the only one. As I've written before, linkbuilding takes time. Connections aren't forged overnight, and anyone who promises you major results overnight is a liar.
An experienced SEO may have a well-established network of connections to start a linkbuilding campaign, but you'll pay for those connections. A bottom-barrel hourly rate is a surefire way to indicate shortcuts (buying links) or inexperience (laughable outreach emails).
Believe it or not, inexperience can be just as dangerous as a linkbuilder who overtly cheats the search engines, since an amateur "SEO" may have no idea what he's doing looks like link spam to the search engines.
Don't buy your links. Don't fall for miracle-worker pitches, and be prepared to pay a decent price for a linkbuilding campaign. It's the only way to ensure you'll get results—real results that won't get your site banned.
2. What You Pay For: Cheap Content.
What You Get: Google Panda
Google Panda probably needs no introduction, but I'll give it one anyway: Panda was the major algorithm update from February 2011 that forced content farms into near-extinction. The age of cheap, shoddily-written content was over, and Google reminded us that not just any content could be king: only usable, quality (not keyword-stuffed) content could reign in the post-Panda wake.
But let's take this a step beyond the obvious you-won't-rank-well-with-terrible-content factor: cheap content does nothing for your business. Effective strategists use content to move people, to communicate, to grab attention, etc. Quality content compels: compels people to share, compels people to comment, compels people to buy.
Cheap, poorly-made content does nothing. It sits on a page, waiting to attract searchers (who, 9 times out of 10, will immediately get turned off by the content and return to the SERPs in seconds), and gets websites dinged by Google.
Hire a real blogger, writer, designer, videographer, professional. Look at their portfolio and really look at what they've done before (and if they don't have a portfolio, run). If you're going to put content on your site, it should be every bit as good as the site itself.
3. What You Pay For: Cheap Web Design and Development.
What You Get: Errors. Security vulnerabilities. Poor conversion rates. And, often, a pretty terrible-looking site.
Yes, you could pay somebody $50 to make you a website. And it will suck.
There are many amateurs out there who can slap together a GoDaddy-hosted site and make it look reasonably attractive (and millions more who can make an ugly one). But aesthetics aside, you don't just need a site that looks pretty—you need one that functions.
Ask your developer how your site will be able to grow in the future. Ask if they know SEO (they should). Ask to see what sites they've designed in the past, and find out what hurdles they had to overcome when developing them. Ask what steps they're going to take to increase conversion and lead your customers down the sales funnel.
Your website is the first impression you will make on potential customers. It's also an extension of your physical business: it can take payments, answer questions, and show off your products and services like a virtual shop window.
With all the business your website can bring you, why leave it to an amateur that can develop a site that a.) crashes constantly, hurting your reputation; b.) confuses customers; c.) has little potential for growth?
Choose a Web professional that will stick around for the long haul: when it's time to update or increase your site, you'll want to return to the person who did an amazing job building it in the first place.
4. What You Pay For: Cheap SEO.
What You Get: Over-optimization, black hat tactics, zero results.
Professional SEOs are expensive. Like a lawyer or an accountant, they perform a function which most businesses need to exist but one that's hard for most people to understand. They speak their own language, and they've built a reputation and results after years in the field.
If you want results, you will have to pay for them. And they will not come overnight.
When you hire an SEO (or social media marketer, linkbuilder, etc.), you are trusting them with your site and your online reputation. If you are not 100% clear on what they're doing, you'll have no guarantee they're not doing something that could get your site penalized.
If they don't stay updated on the world of SEO, they could be practicing outdated tactics that can get your site dinged for over-optimization. And if they can't (or don't know how) to measure their progress, you'll have no idea if your SEO budget is actually doing anything for your site.
5. What You Pay For: Cheap Social Media Marketing and Management.
What You Get: Banned accounts and unauthentic results.
Social media may be free, but the hours spent managing your social accounts certainly come at a price. Any so-called social media guru should be advertising their people skills, marketing knowledge, and past experience running active accounts.
They should not be promising you hard-and-fast numbers of followers or fans. It's one thing to promise to boost your numbers. It's another thing to promise you 5,000 followers overnight.
Social media is built on relationships: showing your customers a different side of you, answering questions, getting feedback, and addressing complaints. You need someone who won't just tweet three times a day (you could do that yourself, with considerably better results).
A talented social media manager will match your brand's voice and build campaigns with clear goals— and that goal won't be to simply nab you random followers or fans. It's to build an audience based on people that will help your business grow. And they should be able to show you (in real numbers) how your social presence is helping your business.
You could hire an inexperienced college grad with 50 Twitter followers. You could hire someone who's just going to boost your numbers with known follow-back accounts and accrue thousands of useless followers. Or you could  actually hire someone who knows what they're doing—and actually see results.
There Are No Shortcuts. Period.
I don't know if it's hilarious or saddening that so many people fall for scams and get-rich-quick schemes from amateurs. I don't know how many times I'll have to keep exasperatedly saying, "There is no such thing as cheap SEO." Because there isn't.
No matter what low price you pay for Web design, SEO, or social media up front, you will wind up paying later on. Your site will get penalized. Your accounts will get blocked. And you will have to spend the time in the long run: whether it's countless hours spent explaining things to a newbie, fixing a so-called "professional's" mistakes, or working to recover your reputation, in the end, those pennies saved will cost you all the same.
So here's a hint, a final plea, a last bit of advice: there are no shortcuts. Anyone who offers you one is a cheat, a liar, a scammer, or someone that has absolutely no idea what they're talking about. It's your choice: hire someone who knows what they're doing and will take the time to do it right, or pay for it later. Either way, you will get what you paid for. To that end, paying more money does not necessarily mean you'll get better results either. I've seen many expensive agencies offer awful services for your dollar, too. The same rules apply.
Opinions expressed in the article are those of the guest author and not necessarily Search Engine Land.
Tagged Under: hidden costs, seo social media