Traffic Study – SEO vs. Social Media – Dallas SEO
ByDaniel Ducloux

Friday, June 7, 2013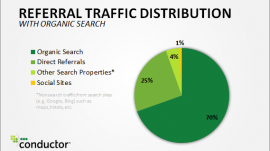 So you have a higher up saying nobody gets customers or revenue from Search marketing. Today I am going to provide you with data that states the obvious. Please read on.
Shareaholic did a study of over 270 million website visits. This study shows natural search accounts for nearly half of all websites visits.
Yes, Search sends about 5x more traffic and revenue than social avenues. Just check out our Dallas SEO company's page.
Here are your SEO "bullets":
1. Search sends about 5x more traffic than Social.
2. Search converts better than social.
3. Smaller companies can compete with larger companies in search given the right strategies are followed and/or created.
4. According to comscore data, natural Search gets 92% of clicks.
According to conductor, social accounts for about 1% of total website visits, and organic search accounts for 7 out of 10 visits.
Another example from Adobe's analysis from over 500 ecommerce websites with billions of visits. 34% came from search, while 2% came from social.
Tagged Under: dalla seo, dallas seo company, search, seo study, seo vs social media, social