Accelerated Mobile Pages- Why Should I Care?
ByDaniel Ducloux

Wednesday, May 4, 2016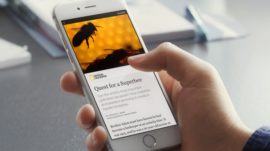 As the mobile web becomes ubiquitous, speed and seamlessness are being rewarded by search engine algorithms. Read how to accelerate content delivery with AMP.
Accelerated Mobile Pages
Now that everyone has a smartphone in their pocket, Google and the other search engines have ramped up the importance of a User-friendly mobile experience. More than half of all search traffic comes from mobile, and so does more than half of Google's ad revenue- therefore, your site being mobile friendly is a major ranking and conversion factor.
For many people (and SEO Companies), reading text on their mobile devices is slow, clunky and frustrating- but Accelerated Mobile Pages or AMP for short, can help you create mobile- optimized content that loads instantly, everywhere. Did you know that the bounce rate- meaning Users who immediately leave your site without clicking any other links or pages- can be nearly 60% higher if your content takes more than 10 seconds to load? Pages built with AMP load an average of 4 times faster, and consume 10 times less data than their equivalent, non-AMP pages.
There are services such as Content Delivery Networks that can provide some of the same benefits of creating Accelerated Mobile Pages, however, they all have their own ecosystems and standards. AMP, however, allows you to produce flexible, beautiful and compelling content that loads instantly on mobile devices- and it's built on existing technology within a technical architecture optimized for speed and performance. You create content, and Google caches that content in the cloud so that it's served quickly to Users that request it.
Familiarizing yourself with and implementing the AMP format ensures that your content is delivered rapidly and seamlessly, with no load times and no fuss- logically, they will consume more of your content, more of your message- and hopefully, with a proper SEO strategy in place, they will convert more as well. Use AMP to ensure that your content is fast, responsive and fun.
Texas SEO has recently opened up offices in Dallas, Austin, Phoenix, and Scottsdale, AZ.
Tagged Under: accelerated mobile pages, amp, seo company