In Case You Haven't Heard Adwords Shake-Up: Google Gets Rid of Right Side Ads
ByDaniel Ducloux

Tuesday, March 22, 2016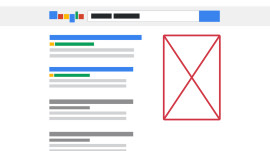 Surely you've heard by now that Google has eliminated right side ads for Search Engine Results Pages on the desktop- if not, we hope that rock you're living under is comfortable!
All joking aside, this is a major change, the biggest in years, perhaps, and will have a marked effect on marketing budgets and strategies moving forward. More than any other single algorithm change or tweak, or Panda or Penguin update, the removal of right side ads is a big step forward towards unifying the mobile and desktop search experience. Marketers spent a lot of time in 2015 discussing the importance of optimizing for mobile with fast, responsive sites- this is some of those chickens coming home to roost. The difference between mobile and desktop is rapidly diminishing, and some of Google's changes are pushing us in that direction.
The most immediate and obvious result of this change is that now there is less real estate on the page for advertisers to bid on. This increases the quality of the experience for the User- a much smaller percentage of on-screen real estate will now be dedicated to advertising; it's hard to imagine any User complaining about that. Obviously, this will drive the cost of Search Engine Marketing with PPC up- We've gone from over a dozen spots down to 3 (sometimes 4, for highly commercial searches) at the top of the page, and 3 at the bottom. It will be more important than ever to research first, then have well-managed AdWords accounts with targeted copy and landing pages. All of those leads acquired through PPC become more expensive and therefore more valuable, as well.
The rest of that right side space that used to hold ads is seemingly dedicated to showing information from their Knowledge Graph, which is basically Google's attempt to serve you accurate information without forwarding you to another site, an extension of their desire to be the go-to source not just for web index information, but for human knowledge. Google wants to be the source for people to verify 'what is'- and that's what that space is for, now.
What are the more tangible implications for you as a marketer? Make sure you fill out your Google+ page with pictures and lots of business information, for one, because that's going to be what Users see first, not your website. Consider these two SERPs for physicians, one who has claimed and optimized their Google Maps/Business listing, and one who hasn't. Can you tell which is which?
vs.
You're going to be making an impression on potential clients before they ever even click to your site, so plan accordingly! We know which one we'd be more likely to click.
Along with making sure that your brand is optimized on all Google properties, you need to make sure your site is optimized to appear in organic search results, as well, through the implementation of Search Engine Optimization. Now that there are fewer ads, that naturally means more attention to the organic results- however, there's going to be a lot more competition for those 2-3 "above the fold" slots, as well, so you need to make sure you're a good User resource, then actively promote yourself in order to rank organically. Studies have shown the lift in both click throughs and sales when a brand appears in both the paid and organic results- that lift is going to be even higher now. A #1 ad plus a #1 organic listing is a sure sign of quality to a User. In addition, as more Users adopt ad blocking software, organic rankings will remain invulnerable. No one uses a search engine and blocks the organic results!
Breaking in to SEM with Google is going to take longer, now, as well- there's simply less real estate for you as Google is dedicating a good 40% of the page to presenting whatever information Google has on the query, rather than mostly presenting an index of what information the rest of the Internet has. As ever, more and more competition enters the market every day- you need to be there as well.
Don't wait any longer! You need an integrated strategy that reaches Users where they are and provides them with more and better information than your competitors. PPC, though oftentimes thought of as the "bring traffic now" button, just got a lot more expensive.
Looking to grow your revenue online? Contact Texas SEO your Digital Marketing Experts with locations in San Antonio, Austin, Dallas, and Scottsdale, AZ.
Tagged Under: AdWords, adwords shake up, google adwords, google adwords right side ads, google gets rid of right side ads