How does Google handle the new Top Level Domains?
ByDaniel Ducloux

Friday, August 14, 2015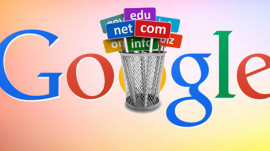 A Top Level Domain is one of the domains at the highest level of the Domain Name System (DNS) of the Internet. These include the familiar examples you are used to such as .com, .org, .net and .edu, as well as new ones such as .guru, .coke or .how. (Here's a list of the new ones.) These new TLDs represent an interesting opportunity for people to obtain better, more relevant domain names for their businesses. So, if someone already has yourbusinessname.com, for example; you may be able to instead set up shop on yourbusinessname.yourindustry instead.
According to Google, the algorithm will not notice the difference. So going out and snapping up a bunch of domains like .industrykeyword, .keywordkeywordkeyword, or .key-word isn't a realistic SEO strategy. The main thing to remember when choosing a URL for your business website is to make sure it's easy to remember and enter into a browser bar. There is no inherent advantage to choosing a branded or keyword-dense TLD for your business in terms of Search Engine Optimization. You'll also want to make sure you keep best practices for back linking in mind- anchor texts that match company names are powerful so plan accordingly.
Bear in mind that if you choose to use a new TLD for your site it will be completely new. There's no history, no links behind the domain name. If you do redirect from an existing site to a new TLD, make sure you properly 301 redirect all pages, secure links to the new URLs, and properly promote the site so that the Search Engines make the right connections.
Tagged Under: How does Google handle the new Top Level Domains