Client Referrals – How to Build your SEO Agency
ByDaniel Ducloux

Monday, May 30, 2016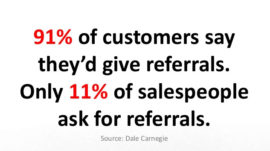 Getting new business can be one of the hardest parts of running an SEO agency. Read now to find out how to get high quality referrals from happy clients.
Client Referrals
Here are some tips on how to get satisfied clients to give you referrals, which help prove your authority and grow your business.
As clients for an eventual referral as part of the contract. You can make this contingent on goals that you and the client agree on, and it's a very simple evaluation process. You either meet the goals set and earn a referral, or you don't.
Use your LinkedIn network to ask for introductions from those in your network to qualified businesses. Personal referrals are always the strongest type of referral, whether in hiring, B2B or B2C. Word of mouth and networking still aren't outdated technologies.
TIMING, TIMING, TIMING. Wait for a win to ask for a referral. 90 days into the campaign is not a good time to ask for an endorsement- wait until you have 6 months or more of satisfied client under your belt. Obviously, you'll want to time your referral request to a positive outcome- better rankings, more visibility or a big client coming in.
Give your clients a template- if you ask them to generate a referral on their own you're going to be waiting a long time. Simply develop a template and email it to the client, ask them to fill it out, and then make sure you follow up.
Clients might not want to give you a referral for whatever reason, but make sure they have a way to recommend you if they don't- ask them if you can use them as a case study, or if they will write a testimonial. Even a LinkedIn endorsement can be valuable!
Add a link to your website and email where clients can submit referrals.
Offer a referral commission.
The most actionable tip to get referrals is- ask! Many times clients will be happy to refer your agency, you just haven't asked them to. Make sure to jump on opportunities to provide service- after all, isn't that why we're all in business?
Texas SEO offering Dallas SEO, Austin SEO, San Antonio SEO, Phoenix SEO, and Scottsdale SEO services.
Tagged Under: how to build your seo agency, how to get client seo referrals, seo client referrals