Facebook Ads vs. Google Ads – Which is right for my business?
ByDaniel Ducloux

Thursday, August 4, 2016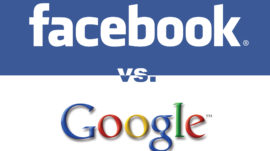 You may be wondering whether to promote your brand or business on Google, with PPC advertising, or on Facebook. As with many questions in the Internet Marketing world, the answer lies in what you are hoping to accomplish. Both platforms have clear advantages and disadvantages, so let's examine them head to head.
Facebook has more than a billion active Users who look at around a trillion pages a month. This is a reach of around 44% of all Internet Users. Google displays AdWords results on 180 billion Search Engine Results Pages per month and has a potential reach of 90% of all Internet Users. Google pretty clearly has Facebook beat here.
In terms of targeting options, Facebook lets you target Users by:
Country, state, province, city, phone number or zip code
Age, gender, relationship status, education, job title
similarity to existing fans, customers or website visitors
action-based, meaning ads targeted to behaviors like liking a page or accessing the site from a tablet
interests, hobbies, other Pages liked
traffic from your website (targeting people who have already visited your website)
Conversely, Google lets you target by:
Country, region or city
Age, gender, parental status
Language
Keywords (including excluding specific keywords)
Device type
Facebook wins the "granularity of targeting" contest- because Users give Facebook a lot more data to work with than Google has.
Google offers better mobile advertising options than Facebook- they allow you to set budget ratios for desktop/mobile and optimize ads for Android phones. Google gets 47% of its revenue from Mobile while Facebook gets around 22% of revenue from mobile, likely due to the functional vs. recreational differences between the sites.
The average cost per click on Google is anywhere from 35 cents to 5 dollars. On Facebook, it's around 45 cents. Facebook also has better CPM costs, at 80 cents to a dollar compared to $2.75 for Google. However, Google has a much better conversion rate at 2%, while Facebook's CTR struggles to reach 1%. Conversion rates are similar between the two channels at around 2%.
As usual, there's not a simple answer to whether Facebook or Google are better to market with. If you have a product that sells due to word of mouth, such as a law firm or yoga studio, for example, it might be better to market on Facebook- relationship or "referral" marketing is strong for personal services. However if you have an ecommerce site or sell a commoditized product or service, you may be better off casting a cheaper, wider net with Google. Remember, also, that you need a website to convert with Google, as well. Facebook can be its own platform.
Make sure to consider all of these issues carefully when allocating budgets. With offices in Austin, Dallas, Phoenix, and Scottsdale, AZ, call Texas SEO. We are the SEO Company to help you grow your business. Call us at 888.988.9736.
Tagged Under: facebook vs google advertising, pay per click advertising