What is the State of Influencer Outreach in 2016?
ByDaniel Ducloux

Wednesday, May 25, 2016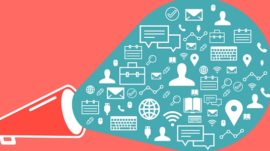 Connecting with an online influencer gets you in front of millions, but be delicate. Learn more about influencer outreach now, then call 888 988 9736.
Influencer Outreach
Influencer outreach is not a quick fix for your marketing (or for SEO), but it is a good way to acquire new customers. The basic idea is that you research someone in your industry, or a personality on YouTube, or a celebrity on Twitter, and then you reach out to them to ask them to promote your product. Imagine if Kim Kardashian made a Tweet about your brand to her 44.5 MILLION Twitter followers, with a link back to your site- think that'd be helpful?
A couple of caveats- influencer marketing is not fast, and it's not cheap. As an extreme example, let's look at Anne Hathaway, who was once paid $750,000 just to wear some Tiffany and Co. jewelry to the Oscars. That sort of budget probably isn't available to you but it's possible to enact a similar strategy, just on a smaller scale. Some influencers will even promote your product for free samples, or just plain for free.
When considering an Influencer Outreach campaign, there are a few things you need to consider- Content Fit, Reach and Engagement. This helps you decide on budgets, channels, tone, etc. The next thing to consider is that the Influencer will want something too- money, a product, more followers, access to a new audience, other promotional perks- be ready to tell the influencer what's in it for them, as you're likely not the only one courting their attention.
You're trying to create a relationship with your influencer that goes beyond just paid product placement. Social Media and the Internet are all about word-of-mouth writ large, and if you can develop a relationship with an influencer it's more authentic. A one-off tweet for 10k with your business hours doesn't impress an Influencer's followers, but when they refer to you over and over, consistently, and link to your services/products in their content, that investment comes back in spades. You cannot automate a personal touch- don't send out automated emails. Address influencers as experts, research their social media streams, and be friendly. An influencer can wreck your brand as much as they can help it; treat these relationships very carefully.
There is more content on the Web now than ever before. To stand out from the crowd and make your voice heard, build a relationship with your influencers, create great content, and then get them to promote it.
Call Texas SEO today for assistance with your influencer outreach campaign. Texas SEO has recently opened up office in Dallas, Austin, Phoenix, and Scottsdale, AZ.
Tagged Under: influencer marketing, Influencer Outreach, state of influencer outreach in 2016